This is an archived article and the information in the article may be outdated. Please look at the time stamp on the story to see when it was last updated.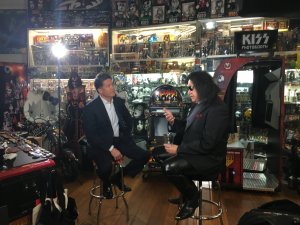 Gene Simmons is co-founder of the rock band KISS which has been performing and recording for 45 years. KISS has earned more gold albums (30) than any American band in history. In 2019, the band goes on tour in what it's calling the "End of the Road" farewell tour.
Gene is also a prolific entrepreneur and co-founding partner of Rock and Brews restaurants. There are more than three-thousand KISS licensed products including a collaboration with Hello Kitty to market KISS-Hello Kitty merchandise in 90 countries.
During this podcast, Gene discusses his life and career, his love of America, his respect for military and first responders, his entrepreneurial spirit, and the upcoming farewell tour.
Related show links:
Subscribe to "Frank Buckley Interviews": via iTunes | RSS
Twitter: FrankBuckleyTV
Facebook: FrankBuckley
Instagram: FrankBuckleyTV
Email: FrankBuckleyInterviews@KTLA.com
About the Podcast: "Frank Buckley Interviews"