This is an archived article and the information in the article may be outdated. Please look at the time stamp on the story to see when it was last updated.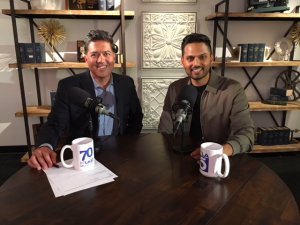 Jay Shetty is a former monk who now makes inspirational videos seen on Facebook and other platforms with the guiding principle to "make wisdom go viral." He achieved two billion views of his videos in 18 months and was named to the Forbes 30 under 30 list in 2017 as a game changer in media.
During this podcast, Jay talks about why he became a monk, how he became a content creator, what drives him as an entrepreneur and storyteller, and he reveals his goals for the future.
Related show links:
Subscribe to "Frank Buckley Interviews": via iTunes | RSS
Twitter: FrankBuckleyTV
Facebook: FrankBuckley
Instagram: FrankBuckleyTV
Email: FrankBuckleyInterviews@KTLA.com
About the Podcast: "Frank Buckley Interviews"
[protected-iframe id="33ffe4f5989892a4e0d4c43700fc99db-41641936-107036767″ info="//html5-player.libsyn.com/embed/episode/id/6928370/height/360/width/640/theme/standard/autonext/no/thumbnail/yes/autoplay/no/preload/no/no_addthis/no/direction/backward/" width="640″ height="360″ style="border: none" scrolling="no" webkitallowfullscreen="" mozallowfullscreen="" allowfullscreen=""]