This is an archived article and the information in the article may be outdated. Please look at the time stamp on the story to see when it was last updated.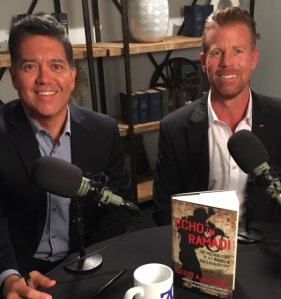 Scott Huesing is a retired Marine major and the author of "Echo in Ramadi: The Firsthand Story of U.S. Marines in Iraq's Deadliest City." In 2006, Scott was the commanding officer of Echo Company, 2d Battalion, 4th Marines deployed to Ramadi, Iraq. Scott retired with 24 years of service. He deployed 10 times including to Afghanistan, Iraq and the Horn of Africa.
During this podcast, Scott takes us inside the intense fighting in Ramadi, Iraq and introduces us to some of the Marines who fought and died in Iraq. He also helps us to understand how the combat and deployments affected their families in the U.S. and how it continues to affect some of the Marines years after their time in Iraq.
Related show links:
Subscribe to "Frank Buckley Interviews": via iTunes | RSS
Twitter: FrankBuckleyTV
Facebook: FrankBuckley
Instagram: FrankBuckleyTV
Email: FrankBuckleyInterviews@KTLA.com
About the Podcast: "Frank Buckley Interviews"
[protected-iframe id="5caee0bfef7706569043cb0f28bbf9e7-41641936-107036767″ info="//html5-player.libsyn.com/embed/episode/id/6625812/height/360/width/640/theme/standard/autonext/no/thumbnail/yes/autoplay/no/preload/no/no_addthis/no/direction/backward/" width="640″ height="360″ style="border: none;" scrolling="no"]