This is an archived article and the information in the article may be outdated. Please look at the time stamp on the story to see when it was last updated.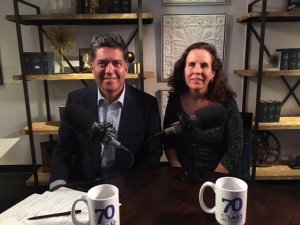 MaryLinda Moss is an artist, wife and mother who suddenly became a hostage when an armed gunman stormed into the Silver Lake Trader Joe's store on July 21, 2018 after he'd allegedly shot and wounded his grandmother and girlfriend and led police on a pursuit.
MaryLinda used her knowledge gained from trauma therapy and 12-step recovery to keep the gunman calm during the three-hour ordeal. Trader Joe's manager, Melyda Corado, was shot and killed during the initial exchange of gunfire between the suspect, Gene Atkins, and police officers. Some 40 Trader Joe's customers and employees were then held hostage as police negotiators spoke to Atkins and MaryLinda, who at times held the phone during the negotiations.
During this podcast, MaryLinda describes the takeover in detail including how she worked with another customer, Mike D'Angelo, and two store employees to keep the gunman from committing any further violence, and how her earlier life experiences informed her actions that ended with the gunman giving up and walking out of the store in handcuffs with MaryLinda, Mike, and the two store employees.
Related show links:
Subscribe to "Frank Buckley Interviews": via iTunes | RSS
Twitter: FrankBuckleyTV
Facebook: FrankBuckley
Instagram: FrankBuckleyTV
Email: FrankBuckleyInterviews@KTLA.com
About the Podcast: "Frank Buckley Interviews"