This is an archived article and the information in the article may be outdated. Please look at the time stamp on the story to see when it was last updated.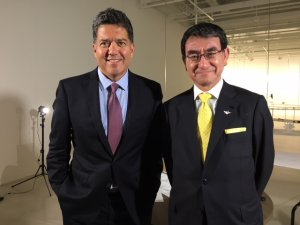 Taro Kono is the Minister of Foreign Affairs for Japan and has served in that position since August 2017. He is an eight-term member of Japan's House of Representatives and a member of the ruling Liberal Democratic Party. He graduated from Georgetown University in 1985.
During this podcast, Minister Kono discusses the state of U.S.-Japan relations including Japan's perspectives on the $68.9 billion U.S. trade deficit with Japan, President Trump's threatened tariffs against Japanese auto imports into the U.S., along with the Japanese view on North Korea and President Trump's recent summit with North Korean leader Kim Jong Un. Minister Kono also explains why he felt it was important to attend the grand opening of Japan House Los Angeles, and he reveals changes he would propose for Japan if he achieves his political ambition to one day become prime minister of Japan.
Related show links:
Subscribe to "Frank Buckley Interviews": via iTunes | RSS
Twitter: FrankBuckleyTV
Facebook: FrankBuckley
Instagram: FrankBuckleyTV
Email: FrankBuckleyInterviews@KTLA.com
About the Podcast: "Frank Buckley Interviews"
[protected-iframe id="7b299cd5a1988b58985c63659e3aa15b-41641936-107036767″ info="//html5-player.libsyn.com/embed/episode/id/6981568/height/360/width/640/theme/standard/autonext/no/thumbnail/yes/autoplay/no/preload/no/no_addthis/no/direction/backward/" width="640″ height="360″ style="border: none;" scrolling="no"]