This is an archived article and the information in the article may be outdated. Please look at the time stamp on the story to see when it was last updated.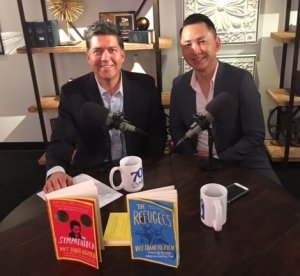 Viet Thanh Nguyen is the author of "The Sympathizer," a spy novel set in the chaos of 1975 Saigon for which Nguyen won the 2016 Pulitzer Prize for Fiction. Viet was born in Ban Me Thuot, Vietnam, and fled as a four-year-old with his family in 1975 to the U.S. as Vietnam was enveloped in the chaos of the end of the war.
Viet and his family were initially transported to a refugee camp in Pennsylvania but eventually moved to San Jose, California where his parents opened one of the first Vietnamese stores in the city. Viet attended U.C. Berkeley and earned a Ph.D. in English. Today, he is University Professor of English, American Studies and Ethnicity and Comparative Literature and the Aerol Arnold Chair of English Studies at the USC Dornsife School. He is the author of several books including "The Refugees," "The Displaced," and "Nothing Ever Dies" among others.
During this podcast, Viet discusses his family's refugee story and the plight of refugees everywhere. He also reveals the challenges he faces as a writer and explains why it took more than 15 years to write the short stories collection "The Refugees."
Related show links:
Subscribe to "Frank Buckley Interviews": via iTunes | RSS
Twitter: FrankBuckleyTV
Facebook: FrankBuckley
Instagram: FrankBuckleyTV
Email: FrankBuckleyInterviews@KTLA.com
About the Podcast: "Frank Buckley Interviews"