This is an archived article and the information in the article may be outdated. Please look at the time stamp on the story to see when it was last updated.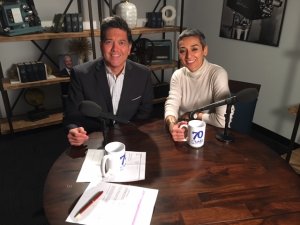 Zainab Salbi is the founder of Women for Women International, a grassroots humanitarian and development organization that helps women survivors of war. Zainab is also a media commentator, TV host, and the author of several books including the national best seller "Between Two Worlds: Escape from Tyranny: Growing Up in the Shadow of Saddam Hussein."
During this podcast, Zainab talks about her life as a child in Iraq growing up in the inner circle of Saddam Hussein, about her escape to the United States through an arranged marriage, about her advocacy for women survivors of war, and about her new TV program "#MeToo, Now What?" on PBS.
Related show links:
Subscribe to "Frank Buckley Interviews": via iTunes | RSS
Twitter: FrankBuckleyTV
Facebook: FrankBuckley
Instagram: FrankBuckleyTV
Email: FrankBuckleyInterviews@KTLA.com
About the Podcast: "Frank Buckley Interviews"
[protected-iframe id="7245f932e3d56f982a5c5dbc9cddd7c9-41641936-107036767″ info="//html5-player.libsyn.com/embed/episode/id/6364232/height/360/width/640/theme/standard/autonext/no/thumbnail/yes/autoplay/no/preload/no/no_addthis/no/direction/backward/" width="640″ height="360″ style="border: none;" scrolling="no"]