This is an archived article and the information in the article may be outdated. Please look at the time stamp on the story to see when it was last updated.
Greg Silverman is the outgoing President of Creative Development and Worldwide Production at Warner Bros Pictures.  During his nearly 20 years at Warner Bros, he's been involved in dozens of films either as an executive or the head of production. You can see a list of those films in his filmography on this page, but The Dark Knight, The Hangover, 300, Inception, Argo, Gravity, American Sniper, Suicide Squad, Batman vs. Superman: Dawn of Justice, and Sully are just a few of the films that happened on Greg's watch.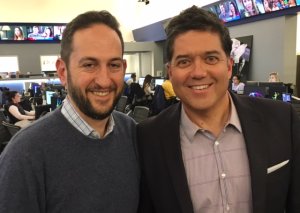 Of course being at the top of a movie studio means he's had successes and failures, and it means he has supporters and detractors. He's made decisions that people considered genius and others that were criticized. Greg answers the critics of one film in particular—Batman v Superman—during this podcast as he takes us inside the high-stakes world of running a movie studio.
What's it like to pitch Steven Spielberg? How did he say "no" to other high-profile directors and movie stars who aren't used to hearing that word? Greg tells us how he handled those situations and reveals the unusual path he took to becoming president of Warner Bros Pictures.
Related show links:
Subscribe to "Frank Buckley Interviews": via iTunes | RSS
Twitter: FrankBuckleyTV
Facebook: FrankBuckley
Instagram: FrankBuckleyTV
Email: FrankBuckleyInterviews@KTLA.com
About the Podcast: "Frank Buckley Interviews"
[protected-iframe id="02f09d32d1e285ef41ad750d598eb1ce-41641936-107036767″ info="//html5-player.libsyn.com/embed/episode/id/5925267/height/360/width/640/theme/standard/autonext/no/thumbnail/yes/autoplay/no/preload/no/no_addthis/no/direction/backward/" width="640″ height="360″ style="border: none" scrolling="no" webkitallowfullscreen="" mozallowfullscreen="" allowfullscreen=""]