This is an archived article and the information in the article may be outdated. Please look at the time stamp on the story to see when it was last updated.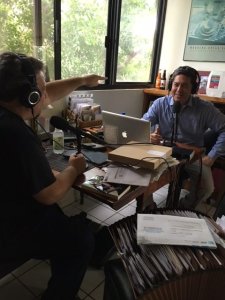 Josh Mankiewicz is best known for being a correspondent for the popular NBC program "Dateline NBC," but he's also the grandson of one of the most celebrated screenwriters in Hollywood history, Herman Mankiewicz. He also happens to be the son of the late Frank Mankiewicz, press secretary to Robert F. Kennedy and campaign manager for presidential candidate Sen. George S. McGovern.
Josh and I have been close friends for about 25 years but we've rarely talked about what it was like to be the son and grandson of storied Hollywood and political figures. We did on this occasion though and we also talked about his work on "Dateline," about the controversy over the writing credit for "Citizen Kane," and about Josh's decision to marry for the first time at the age of 60.
Related show links:
Subscribe to "Frank Buckley Interviews": via iTunes | RSS
Twitter: FrankBuckleyTV
Facebook: FrankBuckley
Instagram: FrankBuckleyTV
Email: FrankBuckleyInterviews@KTLA.com
About the Podcast: "Frank Buckley Interviews"
[protected-iframe id="e602b8a63e6833490408152f93af47b9-41641936-107036767″ info="//html5-player.libsyn.com/embed/episode/id/5925291/height/360/width/640/theme/standard/autonext/no/thumbnail/yes/autoplay/no/preload/no/no_addthis/no/direction/backward/" width="640″ height="360″ style="border: none" scrolling="no" webkitallowfullscreen="" mozallowfullscreen="" allowfullscreen=""]