This is an archived article and the information in the article may be outdated. Please look at the time stamp on the story to see when it was last updated.
Kunal Nayyar is an actor who plays Rajesh Koothrappali on the popular CBS-TV show "The Big Bang Theory." It is America's most-watched scripted television program. It was Kunal's first regular TV role.
Kunal was born in London and raised in New Delhi, India. He moved to the United States to attend university in Portland, Oregon and in Philadelphia, Pennsylvania where he received a Masters in Fine Arts from Temple University.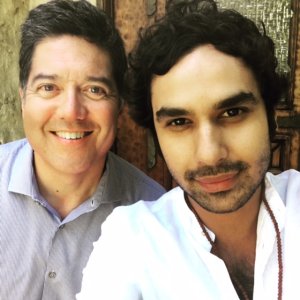 In 2015, Kunal's autobiography "Yes, My Accent Is Real…And Other Things I Haven't Told You" was published by Simon & Schuster. He was also named one of the "World's Highest Paid TV Stars" by Forbes.com in 2015 earning $20 million. Kunal is married to fashion designer and former Miss India Neha Kapur Nayyar.
During this podcast, Kunal talks about his life's journey from India to the U.S. to stardom on "The Big Bang Theory." He also speaks very candidly about how he dealt with the pressures of fame.
Related show links:
Subscribe to "Frank Buckley Interviews": via iTunes | RSS
Twitter: FrankBuckleyTV
Facebook: FrankBuckley
Instagram: FrankBuckleyTV
Email: FrankBuckleyInterviews@KTLA.com
About the Podcast: "Frank Buckley Interviews"
[protected-iframe id="29702677743bbc3950ec9b2f42bd8681-41641936-107036767″ info="//html5-player.libsyn.com/embed/episode/id/5925224/height/360/width/640/theme/standard/autonext/no/thumbnail/yes/autoplay/no/preload/no/no_addthis/no/direction/backward/" width="640″ height="360″ style="border: none" scrolling="no" webkitallowfullscreen="" mozallowfullscreen="" allowfullscreen=""]