This is an archived article and the information in the article may be outdated. Please look at the time stamp on the story to see when it was last updated.
McDonald's Big Mac and fries? You can place that order just about anywhere in the world. In the 1940s though, this American success story was just a single restaurant in San Bernardino, California started by a couple of brothers named McDonald. That is until a man named Ray Kroc entered the picture in 1954 and became the franchising agent for McDonald's. Kroc would expand the company across the nation and eventually across the globe becoming a very wealthy man in the process.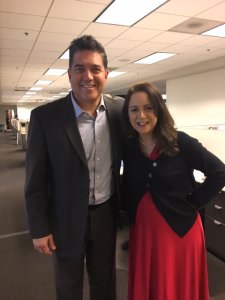 What happened to all that wealth? His wife Joan Kroc would help him spend it while he was alive, and then she donated it to charity after he died. Lisa Napoli's new book "Ray & Joan: The Man Who Made the McDonald's Fortune and the Woman Who Gave It All Away" chronicles the birth and growth of McDonald's, the genius of the visionary Ray Kroc, the love affair between Ray and Joan Kroc, and the legendary philanthropy of Joan Kroc.
It is a fascinating story told in a well-researched book–one I enjoyed as much as the Quarter Pounder with Cheese and fries that I ordered at a McDonald's drive thru just this week. It's that tasty. I hope you enjoy Lisa Napoli's book as much as I did and that you'll enjoy our conversation about it.
Related show links:
Subscribe to "Frank Buckley Interviews": via iTunes | RSS
Twitter: FrankBuckleyTV
Facebook: FrankBuckley
Instagram: FrankBuckleyTV
Email: FrankBuckleyInterviews@KTLA.com
About the Podcast: "Frank Buckley Interviews"
[protected-iframe id="bc0390df479668243c3092828ac87d56-41641936-107036767″ info="//html5-player.libsyn.com/embed/episode/id/5925274/height/360/width/640/theme/standard/autonext/no/thumbnail/yes/autoplay/no/preload/no/no_addthis/no/direction/backward/" width="640″ height="360″ style="border: none" scrolling="no" webkitallowfullscreen="" mozallowfullscreen="" allowfullscreen=""]