This is an archived article and the information in the article may be outdated. Please look at the time stamp on the story to see when it was last updated.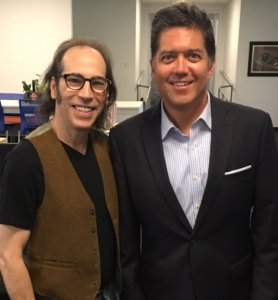 Martin Guigui is the writer-director of the film "9/11" opening on September 8th. The film is based on the play "Elevator" by Patrick Carson and is the fictional story of five people trapped in an elevator in the North Tower of the World Trade Center on Sept. 11, 2001. The movie stars Charlie Sheen, Whoopi Goldberg, Luis Guzman, Gina Gershon, and Wood Harris.
During this podcast, Martin discusses the controversy surrounding the casting of Charlie Sheen who has been labeled a 9/11 "truther" for perpetuating conspiracy theories about the attack on the World Trade Center. Martin also discusses the making of the film, the research and outreach he conducted with the 9/11 community, and his intent to make the film an homage to the heroes of September 11, 2001.
Martin Guigui is an award-winning filmmaker, musician, and music producer who has also composed music for numerous films including 9/11.
Related show links:
Subscribe to "Frank Buckley Interviews": via iTunes | RSS
Twitter: FrankBuckleyTV
Facebook: FrankBuckley
Instagram: FrankBuckleyTV
Email: FrankBuckleyInterviews@KTLA.com
About the Podcast: "Frank Buckley Interviews"
[protected-iframe id="d699f4996c40211ff2486d74fae7701d-41641936-107036767″ info="//html5-player.libsyn.com/embed/episode/id/5925225/height/360/width/640/theme/standard/autonext/no/thumbnail/yes/autoplay/no/preload/no/no_addthis/no/direction/backward/" width="640″ height="360″ style="border: none" scrolling="no" webkitallowfullscreen="" mozallowfullscreen="" allowfullscreen=""]