This is an archived article and the information in the article may be outdated. Please look at the time stamp on the story to see when it was last updated.
Simon Majumdar is a Food Network personality and judge, an author of three books "Eat My Globe," "Eating for Britain," and "Fed, White, and Blue," and he's a lover of food and travel who also likes to cook and eat. Simon's motto: "Go everywhere. Eat everything."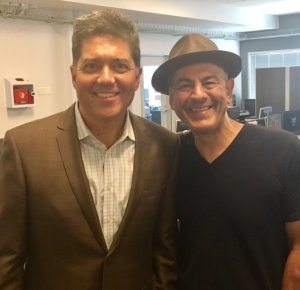 What many people don't know is that Simon turned to food as a career after turning 40 and after suffering through a crisis that nearly claimed his life. Now, he appears regularly on Food Network shows including Cutthroat Kitchen, Beat Bobby Flay, Iron Chef America, The Next Iron Chef, The Best Thing I Ever Ate, and Extreme Chef.
During this podcast, you'll learn how Simon became a Food Network star, how he judges food and the chefs who make it, and how you can actually invite Simon to stay with you and cook for you at your home.
Related show links:
Subscribe to "Frank Buckley Interviews": via iTunes | RSS
Twitter: FrankBuckleyTV
Facebook: FrankBuckley
Instagram: FrankBuckleyTV
Email: FrankBuckleyInterviews@KTLA.com
About the Podcast: "Frank Buckley Interviews"
[protected-iframe id="c3180e6d43794752c9bff421643f5ee1-41641936-107036767″ info="//html5-player.libsyn.com/embed/episode/id/5925228/height/360/width/640/theme/standard/autonext/no/thumbnail/yes/autoplay/no/preload/no/no_addthis/no/direction/backward/" width="640″ height="360″ style="border: none" scrolling="no" webkitallowfullscreen="" mozallowfullscreen="" allowfullscreen=""]