This is an archived article and the information in the article may be outdated. Please look at the time stamp on the story to see when it was last updated.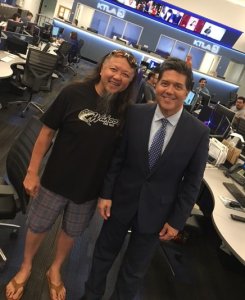 Wing Lam is a co-founder and owner of the Wahoo's Fish Taco chain of restaurants. The restaurants started with one taco stand at 1862 Placentia Avenue in Costa Mesa, California. Restaurant #1 is still at that location but there are now some 60 Wahoo's restaurants across seven states as well as Japan.
How did Wahoo's grow from one store to 60 and become the restaurant of the surf culture in Southern California? What role did a Merrill Lynch commercial (see below) play in the growth of Wahoo's? Will Wahoo's someday go public? What does it take to be a Wahoo's franchisee? And why is John Wayne a legend in the Lam Family? You'll hear Wing Lam's answers to all of those questions and more on this edition of Frank Buckley Interviews.
Related show links:
Subscribe to "Frank Buckley Interviews": via iTunes | RSS
Twitter: FrankBuckleyTV
Facebook: FrankBuckley
Instagram: FrankBuckleyTV
Email: FrankBuckleyInterviews@KTLA.com
About the Podcast: "Frank Buckley Interviews"
[protected-iframe id="4fca4bc91c69e6a2acd32b6475f46d04-41641936-107036767″ info="//html5-player.libsyn.com/embed/episode/id/5925243/height/360/width/640/theme/standard/autonext/no/thumbnail/yes/autoplay/no/preload/no/no_addthis/no/direction/backward/" width="640″ height="360″ style="border: none" scrolling="no" webkitallowfullscreen="" mozallowfullscreen="" allowfullscreen=""]