This is an archived article and the information in the article may be outdated. Please look at the time stamp on the story to see when it was last updated.
[protected-iframe id="bf28f866a3c5d5da8f21b4af180476d2-41641936-107036767″ info="//html5-player.libsyn.com/embed/episode/id/5704729/height/90/width/640/theme/custom/autonext/no/thumbnail/yes/autoplay/no/preload/no/no_addthis/no/direction/backward/render-playlist/no/custom-color/5e5dfb/" width="640″ height="90″ style="border: none;" scrolling="no"]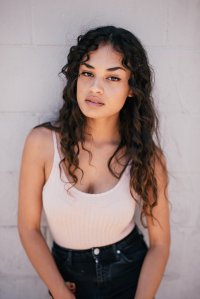 Danielle Jones is a Los Angeles native pursuing her dreams of being an actress and a model. As a kid, Danielle was shy and had trouble fitting in in school, but a chance circumstance led her to being cast in her first commercial when she was 9-years-old. Ever since then, she was hooked. Danielle discovered that being on set and performing in front of the camera was where she found true happiness. Danielle eventually found herself attending a performing arts high school, and despite her parents' hesitance, she knew she would commit her future to pursuing acting.
At the suggestion of her peers, Danielle soon began exploring the world of modeling. While she was not sure if modeling interested her at first, Danielle began to enjoy it more and more. She began building a portfolio and submitted herself to various modeling agencies. After a troubling meeting at one of the agencies, Danielle realized that she may be chasing her dreams in an industry that seems to be stacked against her.
In this episode, Danielle describes pursuing her goals despite not initially having the full support of her parents. She recalls her first on-set experiences, and describes how a frustrating meeting with a modeling agency has fueled her drive to change the status quo when it comes to industry beauty standards.
Related show links:
Subscribe to "Spoken Dreams": via iTunes | RSS
Facebook: SpokenDreamsPodcast
Twitter: @SpokenDreamsPod
Email: SpokenDreams@KTLA.com
About the Podcast: "Spoken Dreams"
[protected-iframe id="2f79d756c6336f6427d53cc542600540-41641936-107036767″ info="//html5-player.libsyn.com/embed/episode/id/5704729/height/360/width/640/theme/standard/autonext/no/thumbnail/yes/autoplay/no/preload/no/no_addthis/no/direction/backward/" width="640″ height="360″ style="border: none;" scrolling="no"]