This is an archived article and the information in the article may be outdated. Please look at the time stamp on the story to see when it was last updated.
[protected-iframe id="32de502acfeda22e1b06928019266bf8-41641936-107036767″ info="//html5-player.libsyn.com/embed/episode/id/6916692/height/90/theme/custom/autoplay/no/autonext/no/thumbnail/yes/preload/no/no_addthis/no/direction/backward/render-playlist/no/custom-color/6564ff/" width="100%" height="90″ style="border: none" scrolling="no"]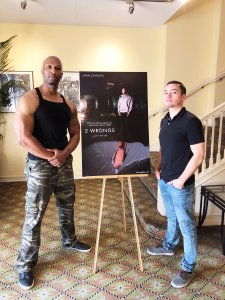 Andy Cruz is a filmmaker from the South Texas town of McAllen. His fondest childhood memory is of his father taking him and his brothers to Blockbuster Video every day after sports practice. This spurred Andy's love for movies. By age 11, Andy was using his dad's video camera to film everything he could. He even started a small business shooting sports highlights to earn money to buy better filmmaking equipment.  Eventually, Andy began making short films, and even a feature.
Andy attended film school at University of Texas, and after receiving advice from his favorite director Judd Apatow, moved out to Los Angeles to pursue a career in film. Opportunities came quickly, but Andy grew weary working on other peoples' projects. He began pursuing his own projects, and received many accolades for his short film Perception. One night, on Valentine's Day, a violent attack would change the course of Andy's life. The events that transpired would inspire Andy's latest film 2 Wrongs.
In this episode, Andy shares the challenges he has overcome to make his film 2 Wrongs. Actor Jamal Johnson returns to Spoken Dreams to discuss why he became involved with the project, and what motivated him to take on the role of executive producer. Andy and Jamal share how they hope their film can help inspire audiences to make positive changes in their lives.
Related show links:
Subscribe to "Spoken Dreams": via iTunes | RSS
Facebook: SpokenDreamsPodcast
Twitter: @SpokenDreamsPod
Instagram: @SpokenDreamsPod
Email: SpokenDreams@KTLA.com
About the Podcast: "Spoken Dreams"
[protected-iframe id="2525e51470a0d36f7c4f102ba8110c5c-41641936-107036767″ info="//html5-player.libsyn.com/embed/episode/id/6916692/height/360/width/640/theme/standard/autonext/no/thumbnail/yes/autoplay/no/preload/no/no_addthis/no/direction/backward/" width="640″ height="360″ style="border: none;" scrolling="no"]