This is an archived article and the information in the article may be outdated. Please look at the time stamp on the story to see when it was last updated.
[protected-iframe id="098650d33ee9d36be0c23212b38bb120-41641936-107036767″ info="//html5-player.libsyn.com/embed/episode/id/6564037/height/90/theme/custom/autoplay/no/autonext/no/thumbnail/yes/preload/no/no_addthis/no/direction/backward/render-playlist/no/custom-color/5250ff/" width="100%" height="90″ style="border: none;" scrolling="no"]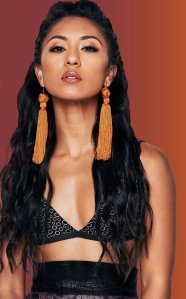 Che'Nelle is an international recording artist who grew up in Malaysia, and later in Perth, Australia. As a young girl, Che'Nelle enjoyed performing songs in her father's karaoke bar, but never expected to pursue a career as a singer. Che'nelle began to take music much more seriously after she was accepted into the music program at a prestigious university, and not long after, a music producer from New York City arrived in Perth to whisk Che'Nelle back to the United States to begin a career as a professional recording artist.
Che'Nelle gained a lot of traction very quickly in the U.S. After releasing a new single, she embarked on a national multi-city radio tour. But almost as quickly as her career stateside began, it came to an abrupt end. As Che'Nelle considered her next move as an artist, she was surprised to learn that her popularity had exploded in Japan. It was there that she developed a devoted fan base, and propelled her career to the next level.
In this episode, Che'Nelle opens up about the many phases of her career as a recording artist. She shares her experiences of making music in foreign countries, and how she now hopes to recreate the success she's had in Japan in the United States and beyond.
Related show links:
Subscribe to "Spoken Dreams": via iTunes | RSS
Facebook: SpokenDreamsPodcast
Twitter: @SpokenDreamsPod
Instagram: @SpokenDreamsPod
Email: SpokenDreams@KTLA.com
About the Podcast: "Spoken Dreams"
[protected-iframe id="87b9fff8c8be8c88b731b5435083b9cc-41641936-107036767″ info="//html5-player.libsyn.com/embed/episode/id/6564037/height/360/width/640/theme/standard/autonext/no/thumbnail/yes/autoplay/no/preload/no/no_addthis/no/direction/backward/" width="640″ height="360″ style="border: none;" scrolling="no"]