This is an archived article and the information in the article may be outdated. Please look at the time stamp on the story to see when it was last updated.
[protected-iframe id="f2d3f2371f4c8e846a917c2f901ab8fe-41641936-107036767″ info="//html5-player.libsyn.com/embed/episode/id/6250693/height/90/theme/custom/autoplay/no/autonext/no/thumbnail/yes/preload/no/no_addthis/no/direction/backward/render-playlist/no/custom-color/5856ff/" width="100%" height="90″ style="border: none" scrolling="no" webkitallowfullscreen="" mozallowfullscreen="" allowfullscreen=""]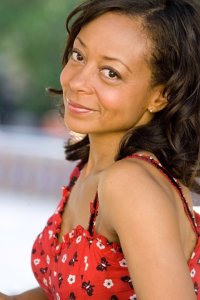 Karen Bankhead is an actor, writer, comedian, and inspirational speaker. She was born on Vandenberg Air Force Base, and because her father was in the service, she and her family moved around the country quite a bit. Ever since she was a young child, Karen loved watching television and even received lessons on the fundamentals of acting, but she didn't originally come to Los Angeles with plans to break into the entertainment industry.
Karen began attending college at UCLA with the intention of becoming a psychologist. However, her love for acting soon got the better of her, and she found herself more and more immersed in the world of Hollywood. One of her first roles was as a series regular on the ABC sitcom New Attitude. Since then, Karen has amassed an impressive performance reel with roles on shows like Curb Your Enthusiasm, Reno 911, Will & Grace, and more. Later, Karen wrote a one-woman show in which she introduced the world to her character Etta Mae Mumphries, a vivacious, elderly woman with a story for everything.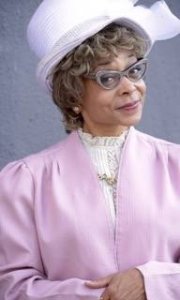 In this episode, Karen shares her experiences of booking her first major role. She opens up about how she found a new purpose to entertain, inspire, and encourage audiences with her Etta Mae character, and Etta Mae Mumphries shares some anecdotes about Josephine Baker and Billie Holiday.
Related show links:
Subscribe to "Spoken Dreams": via iTunes | RSS
Facebook: SpokenDreamsPodcast
Twitter: @SpokenDreamsPod
Instagram: @SpokenDreamsPod
Email: SpokenDreams@KTLA.com
About the Podcast: "Spoken Dreams"
[protected-iframe id="7fbbc635721616492e1f6fdba9ea4b21-41641936-107036767″ info="//html5-player.libsyn.com/embed/episode/id/6250693/height/360/width/640/theme/standard/autonext/no/thumbnail/yes/autoplay/no/preload/no/no_addthis/no/direction/backward/" width="640″ height="360″ style="border: none" scrolling="no" webkitallowfullscreen="" mozallowfullscreen="" allowfullscreen=""]