This is an archived article and the information in the article may be outdated. Please look at the time stamp on the story to see when it was last updated.
[protected-iframe id="440d15ad844c5f9fc448fc3aee18a2d8-41641936-107036767″ info="//html5-player.libsyn.com/embed/episode/id/7112441/height/90/theme/custom/autoplay/no/autonext/no/thumbnail/yes/preload/no/no_addthis/no/direction/backward/render-playlist/no/custom-color/5e5cf5/" width="100%" height="90″ style="border: none" scrolling="no" webkitallowfullscreen="" mozallowfullscreen="" allowfullscreen=""]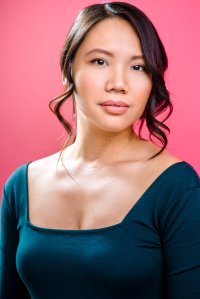 Stephanie Nauli is an actress, model, singer, and author from Los Angeles. As a kid, Stephanie had a desire to be a star, but as she approached adulthood, her life unfolded in a different way. After high school, she went on to join the Army. She quickly became known among the ranks for her noteworthy performances of the National Anthem. Despite people around Stephanie urging her to pursue a career in Hollywood, she laughed it off, and after being honorably discharged, set out to attend medical school to pursue a future career in psychiatry.
During her pre-nursing program, Stephanie began feeling a great lack of fulfillment. She grew weary of living her life based on the expectations of others. Despite protests from her mother, she ended up leaving her nursing program and began chasing her dreams in the entertainment industry. But even as Stephanie began finding greater happiness doing what she loved, the challenges were just beginning.
Related show links:
Subscribe to "Spoken Dreams": via iTunes | RSS
Facebook: SpokenDreamsPodcast
Twitter: @SpokenDreamsPod
Instagram: @SpokenDreamsPod
Email: SpokenDreams@KTLA.com
About the Podcast: "Spoken Dreams"
[protected-iframe id="8a767d57a21eccaa5a3d82bb4da9f923-41641936-107036767″ info="//html5-player.libsyn.com/embed/episode/id/7112441/height/360/theme/standard/autoplay/no/autonext/no/thumbnail/yes/preload/no/no_addthis/no/direction/backward/" width="100%" height="360″ style="border: none" scrolling="no" webkitallowfullscreen="" mozallowfullscreen="" allowfullscreen=""]