This is an archived article and the information in the article may be outdated. Please look at the time stamp on the story to see when it was last updated.
[protected-iframe id="55352389cddcddd66932563cef5ed1ce-41641936-107036767″ info="//html5-player.libsyn.com/embed/episode/id/5520775/height/90/width/640/theme/custom/autonext/no/thumbnail/yes/autoplay/no/preload/no/no_addthis/no/direction/backward/render-playlist/no/custom-color/4a49fb/" width="640″ height="90″ style="border: none" scrolling="no" webkitallowfullscreen="" mozallowfullscreen="" allowfullscreen=""]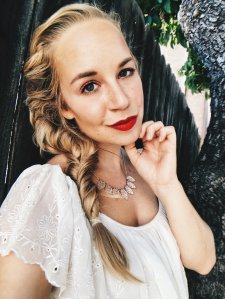 Tanya Hreiz is an aspiring host and personality. She grew up in a small suburb of Philadelphia, but always believed she was destined for a future in a bigger city. While she always felt she wanted to be in the spotlight, Tanya struggled to pinpoint exactly what it was she wanted to do as a career. After a traumatic car accident, Tanya discovered acting as a way to channel her emotions and let them out on-stage. She made the decision that she would come to Los Angeles to pursue a career in acting.
After some time in Los Angeles, Tanya struggled to make ends meet. She began to have a lot of self-doubt about her future in acting. Eventually, she landed a job at an entertainment company and was given opportunities to showcase her personality in new media such as online videos and podcasting. That's when she began to realize that she wasn't truly happy pretending to be someone else on-stage or on-screen as an actress, but rather found true joy in just being herself.
In this episode, Tanya shares her journey of self-discovery from Pennsylvania to Los Angeles. She opens up about her struggles with depression, and how learning to love herself opened up a new world of opportunities. She also shares her new dreams for her future in L.A.
Related show links:
Subscribe to "Spoken Dreams": via iTunes | RSS
Facebook: SpokenDreamsPodcast
Twitter: @SpokenDreamsPod
Email: SpokenDreams@KTLA.com
About the Podcast: "Spoken Dreams"
[protected-iframe id="b16037dafc66362e180e1b8592e5bf59-41641936-107036767″ info="//html5-player.libsyn.com/embed/episode/id/5520775/height/360/width/640/theme/standard/autonext/no/thumbnail/yes/autoplay/no/preload/no/no_addthis/no/direction/backward/" width="640″ height="360″ style="border: none" scrolling="no" webkitallowfullscreen="" mozallowfullscreen="" allowfullscreen=""]