This is an archived article and the information in the article may be outdated. Please look at the time stamp on the story to see when it was last updated.
[protected-iframe id="34118ad9e2ec544a3ef18481a167588c-41641936-107036767″ info="//html5-player.libsyn.com/embed/episode/id/7572233/height/90/theme/custom/autoplay/no/autonext/no/thumbnail/yes/preload/no/no_addthis/no/direction/backward/render-playlist/no/custom-color/2320ff/" width="100%" height="90″ style="border: none;" scrolling="no"]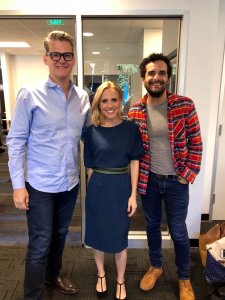 In this episode of The News Director's Office podcast, Jessica Holmes stops by Jason's office and shares how she got her start in Los Angeles, her excitement over hosting her new show California Cooking, and recounts a life highlight of spending a memorable day with Martha Stewart.
Episode quotes
"Once you realize that you have identified a passion, invest in yourself. Figure out what you need to know, what kind of experience and expertise you need to develop to do the things that you feel in your heart you will enjoy and that will sustain you both mentally and economically."

-Martha Stewart

"I think baking cookies is equal to Queen Victoria running an empire. There's no difference in how seriously you take the job, how seriously you approach your whole life."

-Martha Stewart
Related show links:
Subscribe to "The News Director's Office": via iTunes | RSS
Jason on social media: Twitter | Instagram
Bobby on social media: Instagram
About the Podcast: "The News Director's Office"
More podcasts from KTLA: Frank Buckley Interviews | Spoken Dreams | California Cooking
[protected-iframe id="44bf42273523e7f475f89a21c39e73c9-41641936-107036767″ info="//html5-player.libsyn.com/embed/episode/id/7572233/height/360/theme/standard/autoplay/no/autonext/no/thumbnail/yes/preload/no/no_addthis/no/direction/backward/" width="100%" height="360″ style="border: none;" scrolling="no"]