This is an archived article and the information in the article may be outdated. Please look at the time stamp on the story to see when it was last updated.
Two world-class rock climbers who have been clinging to minuscule granite holds in Yosemite National Park on Wednesday completed a yearslong effort to free-climb the Dawn Wall on the towering 3,000-foot face of El Capitan, becoming the first to complete what is widely considered the most difficult such ascent in the world.
Tommy Caldwell, a 36-year-old from Colorado, and his 30-year-old partner, Kevin Jorgeson from Santa Rosa, topped out on the summit of the Sierra Nevada monolith about 3:30 p.m. They spent 19 days on the wall.
A crowd of family, supporters and news media was gathered in the meadow below in Yosemite Valley, anxiously watching their progress all day. The climbers appeared like ants on the massive rock wall.
A cheer went up when they reached the top.
"This is spectacular," Caldwell's mother Terry told KTLA. "This was his biggest project, his biggest dream. He called it his 'Moby Dick.' ... He kept saying, 'I don't know if this is possible, I'm just going to keep working on it.'"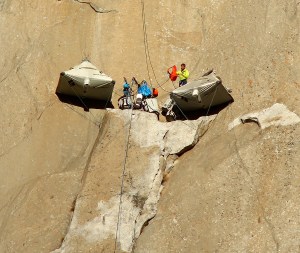 Caldwell and Jorgeson, who together have been attempting what is widely considered one of the most challenging climbs in the world since 2009, began this season's effort on Dec. 27.
Congratulations poured in over social media, with even the White House posting an image of President Barack Obama giving the thumbs up next to a painting of Yosemite Valley.
"You remind us that anything is possible," the White House post stated.
The team's progress up the steep, nearly blank wall of El Capitan, with each inch's gain made only with hands and feet, brought worldwide attention to Yosemite Valley and the growing sport of rock climbing.
Jorgeson said the 31-pitch journey was more than just the achievement of a long-held goal for the two professional climbers.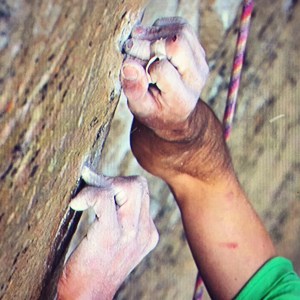 "To anyone writing about #dawnwall, this is not an effort to 'conquer.' It's about realizing a dream," he said on Twitter early Tuesday morning.
The pair camped in tents suspended from the vertical rock face, with supplies brought to them on ropes. Photographers hanging from the wall documented much of the climb.
After multiple failed attempts, Jorgeson on Jan. 9 successfully completed the 15th pitch of the climb, one of the two most difficult. Caldwell, considered the stronger climber, finished that pitch about six days earlier and waited for his partner to catch up as Jorgeson repeatedly worked with torn and bloodied fingertips.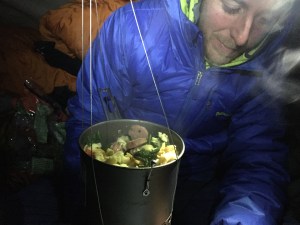 Caldwell said on Facebook that the tiny rock features he climbed on Pitch 15 were "some of the smallest and sharpest holds I have ever attempted to hold onto."
The two needed to climb every single pitch without falling to be considered successful in their plan. If they fell, they had to start over at the bottom of that pitch and begin again.
"What makes the Dawn Wall so special is that it's almost not possible," professional climber Alex Honnold told the New York Times.
Honnold's death-defying, ropeless "free solo" feats have often taken the sport's spotlight, but Caldwell and Jorgeson's El Capitan effort was bringing them recognition some commentators have said was long due. Honnold, who has never climbed the Dawn Wall, was there to meet the team at the top.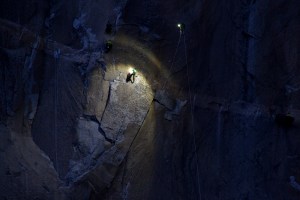 "The hardest pitches on the Dawn Wall are harder than I've ever climbed," Honnold told the Times.
Caldwell's story is particularly compelling. In 2000, he was kidnapped by militants while climbing in Kyrgyzstan and pushed an armed guard off a ledge to obtain his group's freedom -- an episode that haunted him, as the New York Times has reported. The guard survived and verified the story. Caldwell also lost part of one forefinger in a home-improvement accident, leaving him to continue his professional climbing career with just nine full digits.
He first began working on the Dawn Wall free climb in 2007; Jorgeson joined him two years later.
Jorgeson is known for powerful bouldering, or climbing shorter rock faces without ropes. Over the years and with his increased experience on the big wall of El Capitan, his partnership with Caldwell has become more equal, he told National Geographic.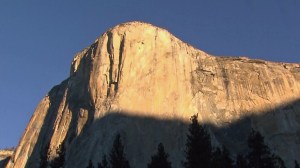 "I seriously doubt if this project could be completed alone. It's such a huge undertaking. And it's so easy to get crushed under that weight," Jorgeson said. "But when you have a partner, it changes everything."
On Jan. 9, when Caldwell made it to a spot called Wino Tower, above which the climbing was still incredibly difficult by most standards but easier than what had previously been completed, he became emotional.
"I kind of lost it when I pulled onto Wino Tower knowing that this seven-year dream is looking more and more like it could become a reality," Caldwell wrote.
Caldwell called the Dawn Wall "the steepest, blankest big wall, maybe in the world" in a bonus clip from the documentary "Valley Uprising," about the history of rock climbing in Yosemite Valley.
Caldwell and Jorgeson have collectively spent some 800 days on the wall, Southern California climbing legend John Long told KTLA.
"It's not just a climb, it's a sporting accomplishment," Long said. "We're looking at sporting history unfold right before our eyes."
Their achievement, and the corresponding media attention, parallels the first ascent of the Dawn Wall in 1970, when it was also called the "Wall of the Early Morning Light." The route is one of dozens on El Capitan, but it was long considered unclimbable before then.
After 28 days, hanging from a variety of pieces of ladder-like equipment and ropes in a less difficult method known as aid-climbing, Warren Harding and Dean Caldwell (no relation to Tommy Caldwell) summited to find a collection of reporters and cameras waiting for them.
On Wednesday, crowd of family and a few reporters were said to be waiting for Tommy Caldwell and Jorgeson at the top.
The team was expected to speak publicly about their journey down in the valley at 11 a.m. Thursday, according to their sponsors, Adidas and Patagonia. They asked for privacy and to celebrate with their families on Wednesday.
More Video:
The Done Wall! @TommyCaldwell1 salutes a decade of heavy mettle on the summit of the #DawnWall: Photo: @chrisburkard pic.twitter.com/gYnCQzDaLT

— Patagonia (@patagonia) January 15, 2015