This is an archived article and the information in the article may be outdated. Please look at the time stamp on the story to see when it was last updated.
An Olympian from Southern California who is the fastest female 800-meter runner in the country got an enthusiastic reception at U.S. track and field championships in Sacramento this week.
But not because of her speed.
Alysia Montaño competed in the 800-meter run while 34 weeks pregnant.
The 28-year-old who was a standout athlete at Canyon High in Canyon Country told the Associated Press she's been running throughout her pregnancy with the approval of her doctors and has felt great.
She competed Thursday at the USA Track & Field Outdoor Championships at Hornet Stadium, defending her four-year title as the women's 800-meter national champion.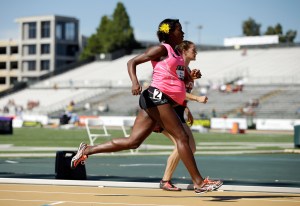 She came in with a time of 2:32.13. That was about 35 seconds slower than her personal best time, 1:57.34 in 2010, according to AP.
"Two minutes and 32 seconds is a long way off. It's not like I was going to be able to run the world record," she told CNN with a smile.
The time earned her last place but also a resounding cheer from the crowd.
"Our four-time defending champion puts in a great effort here and a big congratulations for her," the announcer said as she finished in heat 3 with arms raised (video).
Graduating from high school in 2004, Montaño was recruited to UC Berkeley, setting numerous college records, according to the biography page on her website.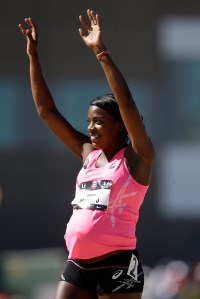 In 2008, at the national championships, she was taken off the track in a wheelchair with a foot injury she had tried to ignore. She was unable to compete in the Olympics that year.
On her return to competition in 2010, she won the 800-meter title, which she has successfully defended through 2013. She came in fifth in the 800-meter event at 2012 Summer Olympics in London.
She's known for wearing a flower in her hair during competitions.
Her doctors encouraged Montaño to keep running during her pregnancy, she told the AP.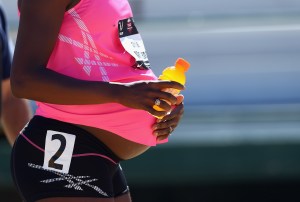 "That took away any fear of what the outside world might think about a woman running during her pregnancy," Montaño said. "What I found out mostly was that exercising during pregnancy is actually much better for the mom and the baby."
"I did all the things I normally do," she said. "I just happened to be pregnant. This is my normal this year."