This is an archived article and the information in the article may be outdated. Please look at the time stamp on the story to see when it was last updated.
With the crack of a bat, they exploded. Out of seats, fists in the air, mouths agape — one screaming, hugging, high-fiving, euphoric mass of Dodgers fans.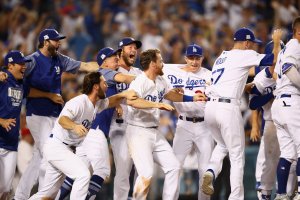 It was the bottom of the ninth. Two outs. Tied game, 1-1. Justin Turner stepped up to the plate Sunday night and smacked a three-run home run over the center field wall, lowering the boom on the Chicago Cubs in Game 2 of the National League Championship Series — leaving the Boys in Blue just two wins shy of their first World Series in 29 years.
Oh, what a time to be a Dodgers fan.
Derek Guerra ran through the crowded corridors of Dodger Stadium high-fiving as many people as he could find as the stadium convulsed with applause. He was just a toddler when his mom brought him to the ballpark for the 1988 World Series — the game in which Kirk Gibson hit his dramatic walk-off home run, a swing of the bat that seemed to lift the entire city.
Read the full story on LATimes.com.