This is an archived article and the information in the article may be outdated. Please look at the time stamp on the story to see when it was last updated.
Legendary Los Angeles Dodgers broadcaster Vin Scully will return for his 67th season with the team next year, the organization announced Friday.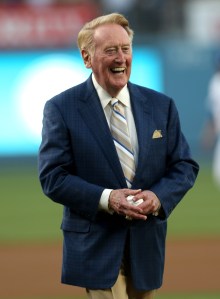 "I talked it over with my wife, Sandi, and my family and we've decided to do it again in 2016," Scully stated in a news release. "There's no place like home and Dodger Stadium and we look forward to being a part of it with all of our friends."
Scully, 87, is the longest serving broadcaster to work with a single team, according to the Dodgers website.
The beloved announcer has won numerous awards and been widely recognized, including being inducted into the National Baseball Hall of Fame in 1982 and National Association of Broadcasters Hall of Fame in 2009, as well as being elected the top sportscaster of the 20th century by the non-profit American Sportscasters Association.
"Vin is a national treasure and the Dodgers couldn't be happier to have him back at the microphone in 2016," Dodgers President and CEO Stan Kasten stated. "Vin makes every broadcast special and generation after generation of Dodger fans have been blessed to be able to listen to him create his poetic magic since 1950. We look forward to adding many new chapters to that legacy in 2016."
Scully first joined the Brooklyn Dodgers in 1950. He has called the Dodgers World Championships in 1959, 1963, 1965, 1981 and 1988, as well as three perfect games, 25 no-hitters, 25 World Series and 12 All-Star Games.
Other memorable moments in Scully's career included Kirk Gibson's Game 1 homer in the 1988 World Series, Don Larsen's perfect game in the 1956 World Series, Hank Aaron's record-setting 715th home run; Sandy Koufax's four no-hitters, including a perfect game; and the scoreless-inning streaks of Don Drysdale and Orel Hershiser, the Dodgers stated in the news release.
OFFICIAL: It'll be a very pleasant 2016. Vin Scully to return for his 67th season. pic.twitter.com/i2WrutItRO

— Los Angeles Dodgers (@Dodgers) August 29, 2015