This is an archived article and the information in the article may be outdated. Please look at the time stamp on the story to see when it was last updated.
The Dodgers had just come off another postseason appearance. The management and the manager could not agree on a contract, so the manager left.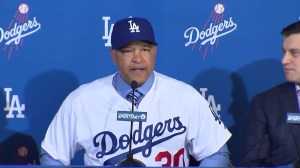 The Dodgers had World Series aspirations and a roster packed with star power. The management handed all those egos and all those expectations to a fortysomething manager, one who never had managed a game in the major leagues.
We're not talking about Dave Roberts, who will be introduced Tuesday as the Dodgers' latest manager. We're talking about Walter Alston, whose hiring as Brooklyn Dodgers manager in 1953 generated a "Who?" headline in one New York newspaper and this remark from a sportswriter: "'The Dodgers do not need a manager, and that is why they got Alston."
That line reflected the thought that a roster featuring future Hall of Famers Roy Campanella, Pee Wee Reese, Jackie Robinson and Duke Snider might be best served by a manager that wrote out the lineup card and stayed out of the way. Today, that line might reflect the increasing influence of the front office on decisions traditionally considered the province of the manager, including the determination of who plays and how often.
Click here to read the full story on LATimes.com.