This is an archived article and the information in the article may be outdated. Please look at the time stamp on the story to see when it was last updated.
ESPN has suspended host Jemele Hill for two weeks due to "a second violation of our social media guidelines," the network announced Monday afternoon.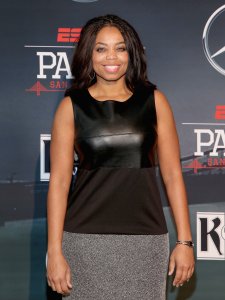 Hill "previously acknowledged letting her colleagues and company down with an impulsive tweet," ESPN said in a statement. "In the aftermath, all employees were reminded of how individual tweets may reflect negatively on ESPN and that such actions would have consequences. Hence this decision."
On Sunday, Hill tweeted about Dallas Cowboys owner Jerry Jones having said that any player who "disrespects the flag" will not play. Hill said that "Jerry Jones also has created a problem for his players, specifically the black ones. If they don't kneel, some will see them as sellouts."
She later said, "If you strongly reject what Jerry Jones said, the key is his advertisers. Don't place the burden squarely on the players."
"Just so we're clear: I'm not advocating a NFL boycott," Hill tweeted. "But an unfair burden has been put on players in Dallas & Miami w/ anthem directives."
The suspension comes weeks after Hill was the center of another controversy, sparked when she called President Trump a "white supremacist" on Twitter.
Related: ESPN says it accepts Jemele Hill's apology after anti-Trump tweets
The White House itself eventually waded into that controversy, with Press Secretary Sarah Sanders saying during a briefing that Hill's comments about Trump were "a fireable offense by ESPN."
"I think that's one of the more outrageous comments that anyone could make," Sanders said at the time in response to a question about Hill.
Hill would eventually express regret for her tweets about Trump.
"My comments on Twitter expressed my personal beliefs," Hill said last month. "My regret is that my comments and the public way I made them painted ESPN in an unfair light. My respect for the company and my colleagues remains unconditional."