This is an archived article and the information in the article may be outdated. Please look at the time stamp on the story to see when it was last updated.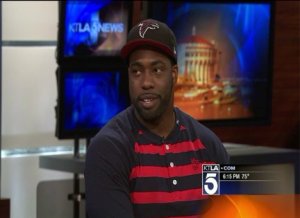 ATLANTA, Ga. (KTLA) — Brian Banks, the one-time high school football star who served time after being falsely accused of rape, spoke on the KTLA Morning News about signing with the Atlanta Falcons.
Banks drew national attention after a Los Angeles judge overturned his conviction, ending a decade of turmoil that began in 2002 when a classmate accused Banks of rape.
Banks was a 16-year-old rising football at Long Beach Poly Tech when he was accused of raping a classmate back in 2002.
He had a full scholarship to USC at the time, and has always maintained his innocence.
But at the advice of his attorney, he pleaded no contest rather than risk 41 years to life in prison if he was convicted at trial.
Banks served five years in prison and was on parole — living his life as a registered sex offender — when his accuser, Wanetta Gibson, contacted him.
She "friended" Banks on Facebook, saying she wanted to meet and clear the air.
Banks met Gibson at a private investigator's office — a meeting that was secretly recorded.
Gibson told Banks she had lied. "No," she was quoted as saying, "he did not rape me."
Her admission paved the way for Banks' exoneration.