This is an archived article and the information in the article may be outdated. Please look at the time stamp on the story to see when it was last updated.
Los Angeles Dodger fans will be able to watch 10 televised Los Angeles Dodgers games on KTLA at the start of the 2017 season following an agreement with Spectrum Networks, the cable provider announced Wednesday.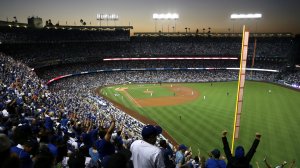 The games, which will be simulcast on SportsNet LA, take place in the first five weeks, between April 5 and May 7, according to a Spectrum Networks news release (PDF).
They include matchups with the San Francisco Giants, San Diego Padres and Chicago Cubs.
Fans will also be able to watch SportsNet LA's pregame show on April 5, April 18, May 3 and May 7.
On May 3, KTLA will also broadcast live the pregame "Vin Scully Ring of Honor Ceremony" beginning at 6 p.m.
The announcement comes as the Dodgers' television blackout heads into its fourth season, according to the L.A. Times.
Dodgers games are broadcast on SportsNet LA, which is owned by the team. Several years ago, the Dodgers granted Time Warner Cable the station's exclusive marketing rights for $8.35 billion over 25 years.
After the deal, Time Warner Cable was unable to reach an agreement with Direct TV or any other local cable and satellite providers to air the channel; Charter Communications — which bought Time Warner Cable last year — has been equally unsuccessful in its efforts, meaning a majority of fans have been unable to watch Dodgers games, the newspaper reported.
Last season, KTLA broadcast six Dodgers' games at the end of season, including some of the final ones of legendary broadcaster Vin Scully's illustrious 67-year career.
KTLA Broadcast Schedule of Dodgers Games
Wednesday, April 5, 6:30 p.m. vs. San Diego Padres
Sunday, April 9, 12 p.m. at Colorado Rockies
Wednesday, April 12, 5 p.m. at Chicago Cubs
Sunday, April 16, 1 p.m. vs. Arizona Diamondbacks
Tuesday, April 18, 6:30 p.m. vs. Colorado Rockies
Wednesday, April 19, 7 p.m. vs. Colorado Rockies
Sunday, April 23, 1 p.m. at Arizona Diamondbacks
Sunday April 30, 1 p.m. vs. Philadelphia Phillies
Wednesday May 3, 6 p.m. vs. San Francisco Giants
Sunday, May 7, 1 p.m. at San Diego Padres
Editor's note: This story was updated to reflect that this was for the 2017 season.