This is an archived article and the information in the article may be outdated. Please look at the time stamp on the story to see when it was last updated.
KTLA will broadcast six Los Angeles Dodgers games as the regular season winds down, including "Vin Scully Appreciation Day,"  Charter Communications and Tribune Media — KTLA's parent company — announced in a joint news release Friday morning.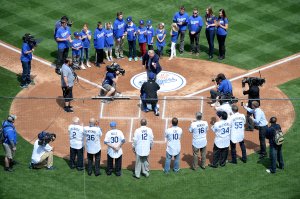 "In Los Angeles, there's no greater sports franchise than the Los Angeles Dodgers, and in the history of baseball, there's been no greater voice than the incomparable Vin Scully," KTLA President and General Manager Don Corsini said.
The first of the six games to be broadcast on KTLA will be Sept. 23 against the Colorado Rockies, which is also "Vin Scully Appreciation Day" at Dodger Stadium. The telecast starts at 6:15 p.m. and is slated to feature a live pregame ceremony honoring Scully, the legendary and beloved broadcaster who is retiring this year after this 67th season with the team.
The remainder of the series against the Rockies, on Sept. 24 and Sept. 25, can also be viewed on Channel 5.
KTLA's broadcasts also include the final regular season series of the year against the rival San Francisco Giants, which will take place Sept. 30, Oct. 1 and Oct. 2 at AT&T Park.
"We thank Charter and the entire Los Angeles Dodgers organization for the unique opportunity to honor the Dean of Sports Broadcasters, and share these iconic Dodgers games and moments with our entire KTLA5 Southern California community," Corsini said.
"I'm delighted that the people who have not been able to see, will now be able to see the last six, and certainly the last three could be very exciting, so I'm really happy that they're going to do it," Scully told KTLA.
Dodgers outfielder Andre Ethier said he was happy an agreement was reached and that the team can "give fans what they want."
"KTLA's been synonymous with Los Angeles and Hollywood for 60 years, maybe. It's amazing, it's really great," said Eddie Vidana, an usher at Dodger Stadium.
"This is our home, this is our pride, this is our team," Dodgers fan Tom Lam said. "We need to support the Dodger blue and the more people, the more access, it's going to really big for the city."
6 @Dodgers games to be aired on @KTLA! I've tweaked a fan favorite song for the occasion. #vinscully #playball pic.twitter.com/b7uqs5W47R

— Rep. Tony Cárdenas (@RepCardenas) September 2, 2016