This is an archived article and the information in the article may be outdated. Please look at the time stamp on the story to see when it was last updated.
One game from the abyss has turned into one game from the bliss of the Stanley Cup Final.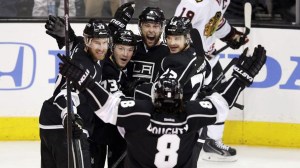 The Kings may not always be the world's most interesting team in the regular season, but they have seized that mantle in the postseason and owned it in the month since they nearly exited the playoffs in the opening round against the San Jose Sharks.
They took another step toward dethroning their nemeses of last season, moving to within one game of eliminating the reigning Stanley Cup champions, the Chicago Blackhawks. The Kings took a four-goal lead and held on for a 5-2 victory over the Blackhawks in Game 4 of the Western Conference finals Monday night at Staples Center.
With a 3-1 series lead, they can clinch it Wednesday if they win Game 5 at the United Center in Chicago.
Click here to read the full story on LATimes.com.