This is an archived article and the information in the article may be outdated. Please look at the time stamp on the story to see when it was last updated.
A throng of 24,000 runners will take to the streets of Los Angeles County on Sunday for the annual 26.2-mile L.A. Marathon, prompting a series of street closures stretching from downtown L.A. to Santa Monica.
Athletes from all 50 U.S. states and 63 countries are expected to compete in the 33rd installment of the event, which kicks off just before 7 a.m. at Dodger Stadium. From there, the race's route will wind through downtown Los Angeles before heading north through Silver Lake, west through Hollywood and Beverly Hills before terminating near the Santa Monica Pier.
As a result, there will be dozens of road closures along the nearly 30-mile tract beginning at midnight. Some will begin reopening by early afternoon, after runners have cleared the area.
[protected-iframe id="35780baefeee1302a5fb2d1efe26ca9f-41641936-109948526″ info="https://www.commuterama.com/lamarathon?id=4123&embed=true" width="425″ height="400″ frameborder="0″ scrolling="no"]
View Larger Map
In addition to the 34 streets that will be fully closed to through traffic, there are numerous other roads that will only be open to local traffic. Click here for the locations and times of hard closures; click here for a list of streets that will be local access only.
Several on- and off-ramps will also be blocked on the 110, 101 and 405 freeways as well as the Pacific Coast Highway. Click here for closures and alternate routes.
There are some surface streets motorists can use to traverse the marathon course.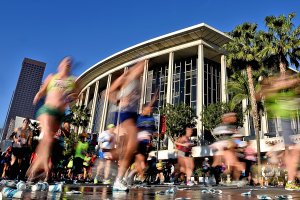 On the eastside, Figeruoa Street at Temple Street, Silver Lake Boulevard at Sunset Boulevard and Myra Avenue at Sunset Boulevard can be used to cut across the runners' path.
On the westside, drivers can take Bundy Drive between Olympic and Wilshire boulevards, Fairfax Avenue between Olympic and Santa Monica boulevards, and the 405 Freeway, although the Santa Monica Boulevard exit will be closed.
Runners are given a maximum of 6 hours and 30 minutes to complete the race. Roads will begin reopening once participants have passed, with streets toward the beginning of the course reopening first, as early as 9 a.m. near Elysian Park.
Metro will be running enhanced service on its Expo and Red lines, will longer trains on the Red Line and more frequent service on the Expo Line. However, those planning to take the bus Sunday were advised to allow extra time as around 50 routes will be subjected to detours. Click here for more details on bus schedules.
After their lengthy trek, participants will cross the finish line near the Santa Monica Pier at the intersection of Ocean and California avenues.
Runners are competing in male and female divisions across 15 age categories, with the top three finishers in each group taking home an award. Registration for the event was still open Saturday, but only in person at the Health & Fitness Expo within the L.A. Convention Center.
The event offers plenty of perks for spectators who don't want to commit to a cross-town trek, with a bevy of musical acts and vendors stationed throughout the race. Click here for more info on viewing events.