This is an archived article and the information in the article may be outdated. Please look at the time stamp on the story to see when it was last updated.

A 61-year-old man was in critical condition hours after winners of the 30th Edition of the ASICS L.A. Marathon completed the 26.2-mile race on Sunday morning.
The man went into cardiac arrest around Mile Marker 22 and was hospitalized, said Veronica Hendrix with the city's joint information center. He later regained conscious.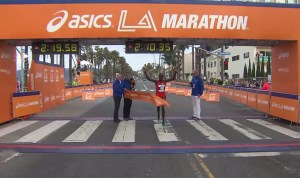 First-place winner Daniel Limo, a 31-year-old man from Kenya, completed course with an unofficial time of two hours and 10 minutes.
Olga Kimaiyo, also of Kenya, was the first woman to cross the finish line, and wheelchair athlete and native Californian Scott Parson was the first to cross the finish line in his division.
Americans Jared Ward and Blake Russell both won third place in their respective divisions.
The course began at Dodger Stadium in Elysian Park and ended at the scenic Santa Monica Pier. More than 26,000 runners were expected to participate.
The race kicked off with an unusually early start time Sunday morning in an effort to beat the heat, the marathon's website stated.
Warnings of potentially record-breaking temperatures likely helped people prepare and to prevent injuries, Medical Director of the marathon Dr. Glenn Ault said.
Early on, many racers said that although temperatures were expected to hit the high 80s to low 90s, the weather was not as hot as expected.
Wheelchair racers started at 6:30 a.m., and the "full field" opened at 6:55 a.m., compared to the typical 7:25 a.m. start time in past years.
Road closures were in effect throughout the course route, with most expected to be lifted by 10:30 a.m.
Related: More L.A. Marathon Coverage 
More Videos: