This is an archived article and the information in the article may be outdated. Please look at the time stamp on the story to see when it was last updated.
Head coach Mike D'Antoni has resigned his position with the Los Angeles Lakers, the team announced Wednesday.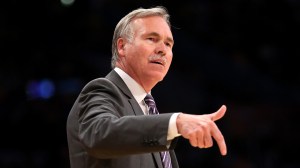 D'Antoni was hired on November 12, 2012 to replace head coach Mike Brown, according to a news release from the team.
He leaves with a record of 67-87 in his two seasons with the Lakers.
Before coming to the Lakers, D'Antoni served as head coach of the Denver Nuggets, Phoenix Suns and the New York Knicks.
"Given the circumstances, I don't know that anybody could have done a better job than Mike did the past two seasons," said Lakers General Manager Mitch Kupchak. "On behalf of the Lakers, we thank Mike for the work ethic, professionalism and positive attitude that he brought to the team every day. We wish him the best of luck."
The team said the search D'Antoni's replacement would begin immediately.