This is an archived article and the information in the article may be outdated. Please look at the time stamp on the story to see when it was last updated.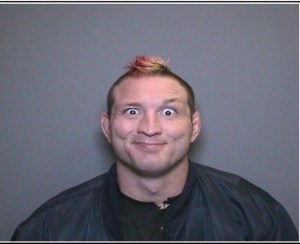 Mixed martial arts fighter Jason "Mayhem" Miller is in trouble with the law again.
This time, Miller was arrested on a warrant in connection with vandalizing a now-shuttered tattoo shop in Lake Forest on Jan. 27, said Lt. Mark Stichter, a spokesman for the Orange County Sheriff's Department.
Miller was stopped in his vehicle in Mission Viejo on Tuesday night, and has been cooperating with investigators, Stichter said. The fighter was held on $1 million bail.
The ex-reality TV star was scheduled to appear Wednesday in a Orange County courtroom. He is charged with felony vandalism and committing a crime while out on custody on another offense, according to Orange County Superior Court records.
Click here to read the full story on LATimes.com.