This is an archived article and the information in the article may be outdated. Please look at the time stamp on the story to see when it was last updated.
Heated confrontations are nothing new in the world of NASCAR, as emotions often run high on the track, but Max Papis found himself on the receiving end of a slap from an unexpected assailant following the Camping World Truck Series race in Bowmanville, Ontario, Canada on Sunday. Papis says he was slapped by fellow driver Mike Skeen's girlfriend, according to Marty Smith of ESPN.com.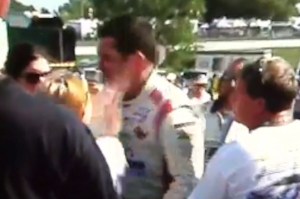 The woman who slapped Papis has been identified as Kelly Heaphy, per Lee Spencer of Fox Sports.
Papis and Skeen were battling for third place late in the race, but they ultimately wrecked, which resulted in Papis finishing sixth and Skeen finishing 13th. Ordinarily, Papis and Skeen might have gotten into a shouting match or even a physical altercation after the race, but Heaphy took matters into her own hands.
As seen in this video courtesy of Queers4Gears on Twitter, she walked up to Papis following the race and absolutely walloped him on his left cheek.
Click here to read the full story on LATimes.com.
[protected-iframe id="2936f808636e96e3a6ef4e10765842b7-41641936-52137988″ info="//platform.twitter.com/widgets.js" ]