This is an archived article and the information in the article may be outdated. Please look at the time stamp on the story to see when it was last updated.
A federal judge in Los Angeles decided Wednesday against declaring a mistrial in a lawsuit accusing NBA star Derrick Rose and two friends of raping the basketball player's former girlfriend in 2013.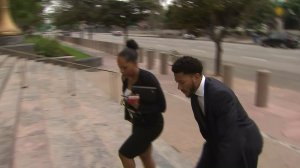 U.S. District Judge Michael W. Fitzgerald faulted the woman's legal team for not having provided the defense sooner with three text messages the woman sent to Rose around the time of the alleged assault, but the judge said the failure was not serious enough to call an end to the civil court trial.
Fitzgerald ruled that the woman could be questioned again by Rose's attorneys and that jurors would be told of the plaintiff's error.
Fitzgerald said the texts "could be viewed as favorable to the defense" and that telling jurors they weren't initially available to Rose's team would "cure that prejudice."
Click here to read the full story on LATimes.com.