This is an archived article and the information in the article may be outdated. Please look at the time stamp on the story to see when it was last updated.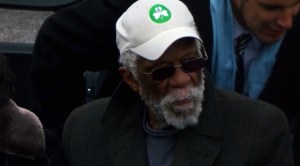 Former NBA legend Bill Russell was arrested this week for allegedly bringing a loaded gun to Sea-Tac International Airport in Seattle, police said.
Russell, 79, was arrested Wednesday and issued a state citation for having a weapon in a prohibited area of the airport, said Perry Cooper, a Port of Seattle Police Department spokesman.
Russell was issued a citation and released. He had a .38-caliber Smith & Wesson handgun in a forbidden area of the airport, said Lisette Garcia, a Transportation Security Administration spokeswoman.
The gun was found during a screening of carry-on bags at a checkpoint, the TSA said.  "Firearms, ammunition, firearm parts and realistic replicas of firearms are always prohibited in carry-on baggage. However, these items can be transported in checked baggage provided the traveler declares them to the airline during the ticket counter check-in process," a TSA statement said.
Click here to read the full story at cnn.com.