This is an archived article and the information in the article may be outdated. Please look at the time stamp on the story to see when it was last updated.
SAN BERNARDINO, Calif. (KTLA) — Police are looking for the suspects who shot longtime Eisenhower High School basketball coach Steve Johnson at a park in San Bernardino.
Authorities say the 47-year-old coac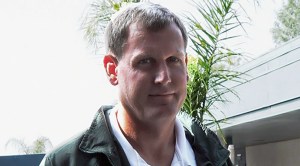 h was on his way to get gas on Monday when he stopped at Seccombe Lake to use a restroom.
While in the parking lot, he was approached by three black males who tried to rob him of his wallet, according to police.
During the confrontation, one or more of the suspects fired at Johnson, hitting him several times in the upper torso. The suspects fled on foot.
Johnson was able to drive himself to the police department.
He was taken from there via ambulance to the hospital with non-life threatening injuries.
"We are shocked and saddened at this horrific news," said Rialto Unified School District spokeswoman Syeda Jafri.
"The outpouring of love and support from not only the Rialto community but the Inland Empire for this championship coach has been tremendously overwhelming.
"Our hearts are with the Johnson family. He's a tremendous child advocate."
Johnson has been Eisenhower's coach since 1993, and he also serves as the school's athletic director. He was named coach of the year in 2009 by the L.A. Times.
"It's a somber mood. He's a big part of our campus. He's not distant. He's not this distant athletic director," one staff member explained.
Anyone with information on this case should contact the SBPD at (909) 384-5742, or the Hot Line at (909) 384-5656.