This is an archived article and the information in the article may be outdated. Please look at the time stamp on the story to see when it was last updated.
Hanging on for dear life: The U.S. attack has all but vanished. Lucky for the Americans that Germany seems content to milk the clock.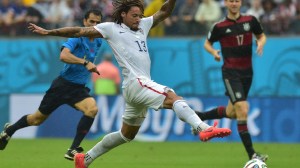 How unusual for the trailing team to wish for fewer than the four minutes of stoppage time is shown to the stadium. It's the Americans who are now killing time, and they settle for a 1-0 loss — to the serenade of "U-S-A" from the crowd — that promotes them to the knockout phase.
RELATED: U.S. to Face Belgium on July 1
Before the end, they mount a rare penetration that nearly salvages the tie. A Bedoya shot and a Clint Dempsey header almost does the trick.
The outcome means that the U.S. can rest until Tuesday, the last day for the Round of 16, before facing the Group H winner, likely Belgium. Germany resumes Monday against the runner-up from H, with Algeria momentarily holding the edge.
Click here to read the full story on LATimes.com.
https://www.facebook.com/photo.php?fbid=10152517352374614&set=a.440942949613.222741.72391084613&type=1&theater