This is an archived article and the information in the article may be outdated. Please look at the time stamp on the story to see when it was last updated.
Multiple vehicle crashes, including a fatal one involving a big rig, were causing problems on rain-slicked freeways and streets in the greater Los Angeles area on Friday morning.
There were 165 crashes on freeways between 7 p.m. Thursday and noon Friday, according California Highway Patrol Office Peter Nicholson with the Southern Division. The same time period for last week -- when there was no rain -- saw only 54 crashes, meaning the rate more than tripled.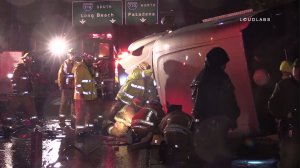 In the Paramount area, a big rig overturned shortly after 1:30 a.m. at the westbound 105 Freeway transition to the northbound 710 Freeway. The driver was declared dead on scene, according to the California Highway Patrol's incident log.
Two lanes were closed for about 2 1/2 hours after that crash.
Just before 6 a.m. in Sylmar, another big rig overturned on the westbound 210 Freeway transition to the southbound 5 Freeway. Two people were transported from the scene, according to the Los Angeles Fire Department's Margaret Stewart.
A SigAlert was issued about 6:30 a.m. The transition, which is used by trucks, will be closed until at least noon, CHP Officer Peter Nicholson said.
A large amount of mud in lanes was causing fast-moving vehicles to slide, CHP's incident log said.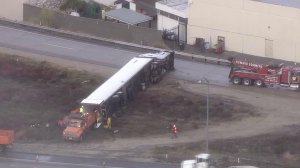 Then, around 6:30 a.m. in the Montebello area, multiple lanes were blocked on the eastbound 60 Freeway for an overturned SUV.
Flooding on the eastbound 60 Freeway in Hacienda Heights, meanwhile, prompted temporary lane closures in the 5 a.m. hour.
Later, a dump truck overturned, blocking all lanes of the eastbound 91 Freeway at State Route 55 in Anaheim. A SigAlert was issued about 8:45 a.m. Nearly three hours later, Caltrans warned to continue expecting delays in the area
Heavy rain that began Thursday was expected to lighten into showers later Friday, with gusty winds rising later in the day, according to the National Weather Service. A flash-flood watch is in effect through noon for recent wildfire burn areas.
Full Closure EB-91 at SR-55 due to dump truck O/turned until further notice. Expect Delays-Live Road Conditions: https://t.co/mSsvUhMyZZ pic.twitter.com/dyMrJog5ac

— Caltrans OC (@CaltransOC) December 16, 2016