This is an archived article and the information in the article may be outdated. Please look at the time stamp on the story to see when it was last updated.
Two storms hit Southern California Tuesday, bringing more rain to the already drenched region and prompting a flash-flood warning in south-central Los Angeles County and reports of major flooding in Torrance.
Just days after a powerful storm brought heavy rain, strong winds, mudslides, flooding and even a tornado to the area, the National Weather Service had forecast another pair of storms to soak the southland for an extended period.
The weaker storm system moved into Ventura and Los Angeles counties from the Central Coast overnight Monday, leaving roads soaked by 3:30 a.m.
A somewhat stronger storm was forecast to arrive Tuesday evening and last until Wednesday, bringing higher rainfall totals than the up to three-quarters of an inch expected in the first storm.
By 5 p.m., Torrance was getting pelted with rainfall rates estimated at 2 inches per hour, according to the weather service.
Dangerous roadway flooding was occurring amid the heavy downpour.
A flash-flood warning was issued through 6:45 p.m. for south-central Los Angeles County, including Torrance, Carson and Compton.
Torrance police said they had received "reports of major flooding" from 190th to Carson streets between Western and Van Ness avenues. The Police Department warned the public to avoid the area and expect delays.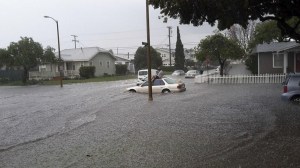 Federal forecasters stated that the second weather system could bring up to 1 inch of rain in coastal and valley area of Los Angeles and Ventura counties, and 1 to 2 inches in the mountains and foothills.
Thunderstorms were also possible across the region on Tuesday and Wednesday.
The main threats with any thunderstorm development would be brief, heavy downpours and small hail, the National Weather Service said.
In anticipation of the latest round of wet weather, the city of Glendora raised the alert level in the Colby Fire Impact Area from green to yellow.  No mandatory evacuations order were issued, but rain-related parking restrictions would be in effect.
Residents in the burn area were also advised to remove vehicles and trash bins from the street.
A voluntary mandatory evacuation order was in effect in Camarillo Springs, where ten homes in the retirement community were red-tagged after the hillside collapsed in a river of mud, rock and debris during the storm last Friday.
In Orange, Riverside and San Bernardino counties, light to moderate rain was expected. However, periods of heavy rainfall and thunderstorms were possible, and burn areas could see minor debris flow as a result of rock and mudslides, the weather service stated.
A flash-flood watch for the mountains of Riverside and Orange counties was scheduled to go into effect Tuesday afternoon and last through Wednesday afternoon.
In addition to rain, the storm brought snow to some areas. A winter-weather advisory was issued by the weather service for the mountains of San Bernardino County above 6,000 feet. It expired at 6 p.m. Tuesday.
"There's no better feeling than snowboarding in a little baby storm," said a snowboarder at Mountain High ski resort in Wrightwood. She was among the many who took to the slopes Tuesday evening amid favorable conditions for skiers.
The snow level could fall to about 5,000 feet, federal forecasters said, adding that snow accumulation of 3 to 6 inches was likely. Locally lower snowfall was possible, and the storm could also bring snow to higher elevations of the Grapevine.
A high surf advisory was also in effect in L.A., Orange and Ventura counties, with sets as high as 10 feet expected in the area. The highest surf would be along west-facing beaches, according to the weather service.
Strong rip currents were expected through next weekend, the weather service said. Officials warned that sneaker waves could unexpectedly wash over rocks or jetties and sweep beachgoers into the water.
Lightning was possible at Orange County beaches Wednesday morning, forecasters said.
A third — and likely weaker — storm was also expected hit the region later in the week.
KTLA's John A. Moreno contributed to this report.
Heavy downpours continue near Torrance producing local rainfall rates over 1"/h with roadway flooding. #LArain pic.twitter.com/b0hwNfkEp6

— NWS Los Angeles (@NWSLosAngeles) December 17, 2014
More Video:
http://instagram.com/p/wr9-RYEv3Z/