This is an archived article and the information in the article may be outdated. Please look at the time stamp on the story to see when it was last updated.
As Southern California is set to begin drying out Friday after more than a week of intermittent rain, federal forecasters have tallied the the rainfall — and snow — brought by the series of storms.
Since Jan. 7, three storms brought several inches of rain to most of Los Angeles and Ventura counties.
In downtown L.A., the deluge helped bring the precipitation level to 167 percent of average for this point in the season, the National Weather Service said. The weather station at USC has received 8.8 inches of rain since Oct. 1, when the "water year" begins, compared to 5.27 inches in a normal year.
The downtown station got 2.41 inches of rain from the three storms.
Meanwhile, Opids Camp, considered the rainiest spot locally, got 8.11 inches. The former school camp is in the San Gabriel Mountains a few miles northwest of Mount Wilson. Several other spots in the same mountain range saw rainfall totals over 5 inches.
"Impressive amounts for LA County!" the weather service's Oxnard office said on Facebook.
The National Weather Service office in San Diego, which covers Riverside and San Bernardino counties, reported rainfall totals only for the 72-hour period early Friday morning.
Those figures showed locations in the San Bernardino Mountains saw precipitation totals in the 4-inch range, with Lytle Creek getting the most: 5.43 inches.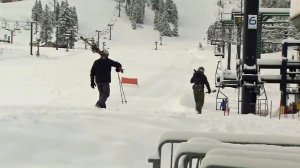 Parts of the Inland Empire were still getting scattered showers Friday.
The storms also brought snow to local mountains. In Idyllwild, in the San Jacinto Mountains of Riverside County, one weather spotter reported 9.5 inches of snow overnight.
On Thursday night, Big Bear Lake had already received 10 inches.
Snow levels dropped to 4,500 feet in some areas, according to the weather service.
On Thursday, the U.S. Drought Monitor reported that about 42 percent of California was no longer in drought. Sierra Nevada snowpack — a critical source of state waters supplies — was at 163 percent of normal for Jan. 13 on Friday.