This is an archived article and the information in the article may be outdated. Please look at the time stamp on the story to see when it was last updated.
Authorities are monitoring a winter storm that's expected to bring rain to fire-ravaged mountains in Santa Barbara County starting Monday evening, possibly giving way to flooding and debris flows.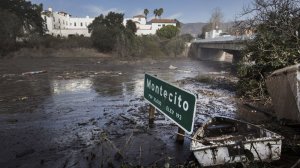 Residents who live below mountains burned by the Sherpa, Whittier, Thomas and Alamo fires were warned late Sunday to prepare in case they are ordered to evacuate Monday night.
The storm is expected to dump less than a third of an inch of rain through Tuesday afternoon, which on its own wouldn't be a problem, said Kathy Hoxsie, a meteorologist with the National Weather Service.
But there's a slight chance of thunderstorms, which could bring additional rain that authorities said could trigger "minor debris flows and flooding" below charred slopes.
Read the full story on LATimes.com.