This is an archived article and the information in the article may be outdated. Please look at the time stamp on the story to see when it was last updated.
The ongoing El Niño could be in the top three strongest events on record, and possibly the strongest ever, a Southern California National Weather Service office stated Wednesday.
The latest readings for warm Pacific Ocean temperatures put the current El Niño, which began in March, as the second-strongest compared to other strong events that have occurred since 1950.
The "sea-surface anomaly" for those ocean temperatures in early November was the greatest such anomaly recorded in 65 years, Warning Coordination Meteorologist Eric Boldt said in a briefing video posted Wednesday.
"This could be the strongest El Niño ever recorded," the weather service's Los Angeles/Oxnard office warned on Facebook in announcing Boldt's briefing.
Boldt said the current phenomenon could rank among the top three strongest events since 1950, in keeping with forecaster consensus as described by the weather service's Climate Prediction Center earlier this month.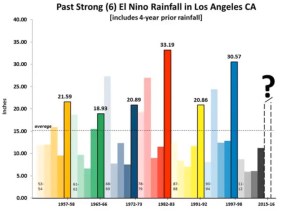 The past six strong El Niños have resulted in above-normal rainfall for downtown Los Angeles, which typically gets around 15 inches of rain per year, Boldt said.
In 1982-1983, more than 33 inches of rain fell on L.A., according to a graphic Boldt showed. In 1997-98, the rainfall total was more than 30 inches.
Those amounts are more than downtown L.A. has received in total from 2011 to 2015, a period that marked the four driest years in 138 years of record-keeping.
Southern Californians should be prepare for coastal flooding and damage, as well as flash flooding, Boldt said.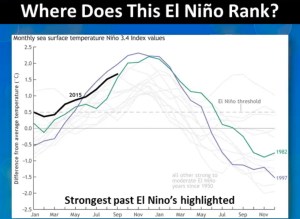 "Widespread flooding is more likely when the region becomes saturated after several storms in a row, and little break between systems," Boldt said.
The storms are expected to peak in January through March.
Despite the possible deluge, Boldt said the coming rainy season would not bring a stop to the drought in California, and he warned that large wildfires are still possible before the rains come.
"One El Niño winter will not end the drought," Boldt said.