This is an archived article and the information in the article may be outdated. Please look at the time stamp on the story to see when it was last updated.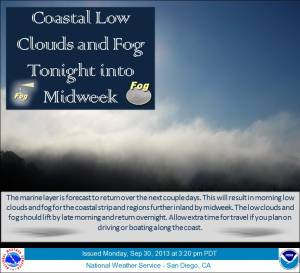 A dense fog Advisory has been issued for Orange and San Diego Coastal areas from one to nine in the morning Tuesday.
Visibility will be down to quarter-mile or less along coastal state routes and freeways tonight through the morning commute.
Please remember to use your low beams, give yourself plenty of space between you and the car ahead of you, and reduce your speed.