This is an archived article and the information in the article may be outdated. Please look at the time stamp on the story to see when it was last updated.
Multiple parts of Southern California and surrounding areas are under flash flood watches that will last most of Saturday as more wet weather hits the region.
Rain was already falling in the morning hours, with heavy downpours reported near LAX just before 6:15 a.m., the National Weather Service tweeted.
Scattered showers also fell across Los Angeles County shortly after dawn.
The flash flood watch is in effect for the mountain areas of L.A., Ventura and Santa Barbara counties, as well as the Antelope and Cuyama valleys, through Saturday evening, according to the weather service.
Forecasters warned those parts could be inundated by afternoon and evening showers and thunderstorms caused by an unseasonably moist and unstable air mass.
"Any thunderstorms that develop will bring the potential for periods of heavy rain which could cause flash flooding to occur due to very weak winds aloft," the weather service stated.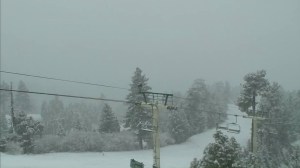 Thunderstorms could contain dangerous conditions, including cloud-to-ground lightning, gusty winds and small hail, forecasters said.
Drivers who encounter swift moving waters crossing the roadway should turn around and look for an alternate route.
The unstable weather comes the day after a storm system dumped an onslaught of rain around Southern California, causing flooding on residential streets in Ontario.
Some areas received as much as 2 inches of precipitation in a 24-hour period beginning Thursday night, according to the weather service.
Big Bear experienced a rare May snowstorm on Friday, while a number of residents in Sierra Madre witnessed hail. 
The northbound 5 Freeway was also temporarily closed through the Grapevine for a few hours on Friday as the weather conditions created a muddy mess on one of the state's main arteries, according to the California Highway Patrol.
All lanes reopened late Friday night.
Here is a 24-Hour Rainfall Summary from 11pm May 5th – 11pm May 6th. Circled areas saw the most rain. #LArain pic.twitter.com/JmDAOwtGqq

— NWS Los Angeles (@NWSLosAngeles) May 7, 2016