This is an archived article and the information in the article may be outdated. Please look at the time stamp on the story to see when it was last updated.
California's dismally dry autumn paints a bleak outlook for the state's rainy season, unless the weather this winter makes a big about-face.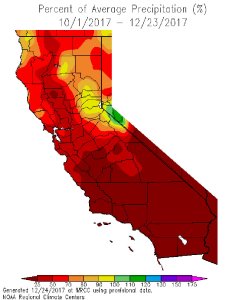 The situation is a major turnaround from last year, when Northern California was battered by a series of "atmospheric river" storms that helped end the state's five-year drought. When it was over, California's northern Sierra Nevada experienced the wettest winter on record, with some ski resorts staying open through the summer.
The dry conditions are partly to blame for the worst fire season on record in California. Low humidity and lack of rain coupled with high winds fueled destructive wildfires from Mendocino down to San Diego this fall. In wine country, more than 40 people died and more than 10,000 homes were lost. To the south, the Thomas fire in Ventura and Santa Barbara counties became the largest wildfire on record in California.
If the trend continues, forecasters say California could see, come spring, a light Sierra Nevada snowpack, a key source of water for the state during the dry summer.
Read the full story on LATimes.com.