This is an archived article and the information in the article may be outdated. Please look at the time stamp on the story to see when it was last updated.
Although the widely popular app "Flappy Bird" has been removed from the iOS and Google Play stores, KTLA fans and tap-obsessed gamers looking for their next fix have a new alternative.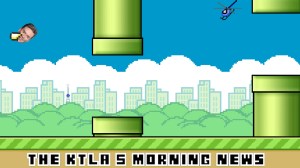 Featuring longtime KTLA 5 Morning News forecaster Mark Kriski, the newly released "Clumsy Kriski" game mirrors the mechanics of the best-selling "Flappy" app. Users control a winged Kriski while dodging pipes and trying to stay afloat.
The instructions are simple:
avoid pipes;
avoid the ground;
tap the screen on mobile devices or use the spacebar on desktop computers to send Kriski flying.
"Flappy Bird" shot to the top of the app charts within recent months despite its high level of difficulty and stripped-down concept. Amid all the success, creator Dong Nguyen took the app offline Feb. 9.
Nguyen told Forbes magazine it was too addictive for users.
In the days since its removal, dozens of casual games with similar concepts have emerged in an effort to fill the void and capture "Flappy" fans – including KTLA.
KTLA's spin-off marks Kriski's first appearance in a video game.
We want to see your high scores. Post them on Twitter using the hashtag #ClumsyKriski.