This is an archived article and the information in the article may be outdated. Please look at the time stamp on the story to see when it was last updated.
Powerful wind, rain and even a little bit of snow could make traveling along the 5 Freeway through the Grapevine hazardous Thursday and Friday, forecasters said.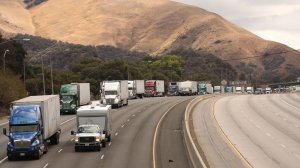 Northerly winds with gusts up to 50 to 65 miles per hour are possible in the area through early Friday morning, said Robbie Munroe, a meteorologist with the National Weather Service in Oxnard. A high winds warning is in effect for the area through 1 a.m. Friday, he said.
Forecasters had received reports of snow near Sandberg on Thursday morning, he said.
Gusty wind is expected Thursday for much of Los Angeles, Ventura and Santa Barbara Counties, with gusts around 35 to 45 miles per hour and possibly stronger in the mountain areas, Munroe said. The wind could be strong enough for reduced visibility due to blowing dust and sand across the Antelope Valley, and forecasters have warned of potential downed tree limbs and trees, as well as possible power outages.
Here's the visible satellite imagery where snow is likely occurring above 4500 ft. Use caution over the #Grapevine I-5 Tejon Pass as snow may briefly accumulate thru 11am. High winds with gusts to 70 mph are possible creating whiteout conditions. #CAstorm #CAwx pic.twitter.com/mFAdT9hQEu

— NWS Los Angeles (@NWSLosAngeles) April 12, 2018
Rain and snow showers will likely bring wet conditions to the I-5 through the Grapevine this morning. This combined with gusty northerly winds will make for hazardous driving conditions. Drive safely out there. #CAwx #LAweather #Socal @NWSHanford pic.twitter.com/MNVThyh0pL

— NWS Los Angeles (@NWSLosAngeles) April 12, 2018
Read the full story on LATimes.com.